Catering at Kerridge End Holiday Cottages
Kerridge End Holiday Cottages offer a wide selection of locally prepared dishes using local produce. Order meals to cater for some or all of your stay leaving you time to relax and truly enjoy yourself. Choose your meal from our menus in advance and your selected dishes will be in the cottage to await your arrival. There is a delivery charge on each order. We would ask you to order your selection a minimum of two weeks before arrival to ensure availability. Please see the menus below to make your choice – if you have something specific in mind, please contact us to discuss your requirements.
Planning a celebration?
If you are planning a celebration why not have that special meal without going out? Celebrate with a romantic dinner or supper with friends in your own cottage with the minimal amount of effort – after all you have taken time to find the perfect spot so why not enjoy the surroundings?
Example menu for celebrations/private dinner
First Course
chicken-liver-pate
Tian of Salmon Fillet with a Dill & Mustard Sauce garnished with Fennel & Apple (Honey baked salmon fillet with a hint of chilli, blended with capers, spring onion, and dill and crème fraiche, garnished with fennel & apple and drizzled with a Dijon mustard & dill sauce)
Spinach & Garlic Terrine with a Tomato & Chilli Jam Relish(V)(A blend of spinach, garlic & cheese baked as a terrine, sliced and served with a tomato & chilli jam relish)
Cucumber, Dill & Cheese Mousse with Ruby Grapefruit (V)(Soft Goats cheese & Fromage Frais are gently combined with Cucumber & Dill to form a Mousse, which is served with refreshing ruby grapefruit segments)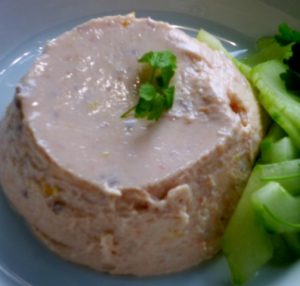 Main Course
(All meat and game is sourced locally)
Pheasant or Chicken Breast with a Creamy Bacon Sauce(Sautéed Pheasant or Chicken Breasts accompanied by a smokey bacon sauce)
Breast of Chicken with Spinach, Parmesan and Saffron(Oven Baked Chicken Breast stuffed with spinach and parmesan served in a creamy saffron sauce)
Tenderloin of Lamb stuffed with Garlic accompanied by a Dijon Mustard Gravy(Cheshire Lamb sprinkled with garlic and rosemary, wrapped in bacon and roasted)
Aubergine Rolls Stuffed with Goats Cheese Served with a Roasted Tomato Sauce(Thin slices of aubergine wrapped around a goats cheese and herb stuffing and baked, served on a rich tomato sauce bed)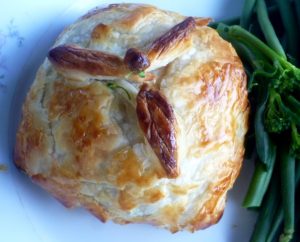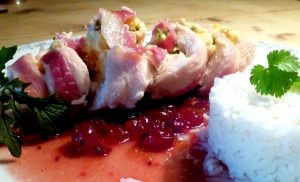 Dessert
Triple Chocolate Tart with Orange Cream(Dark & Milk chocolate combined in a sweet pasty case decorated with white chocolate and served with Cointreau flavoured cream)
Lemon & Passion fruit PossetCreamy lemon dessert topped with luxurious passion fruit
Trio of Puddings(A trio of mini puddings to help those who would like a bit of everything! Choose three from:Treacle Tart with Clotted or Single Cream, Raspberry Pannacotta in a Shot Glass, Lemon Posset with Passion fruit in a Shot Glass, Chocolate Brownie with Drambuie laced Cream, Individual Fruit Pavlova's, Key Lime Pie
We can also arrange a chef to prepare and serve a fabulous meal in your cottage. Please contact us at least 2 weeks in advance to discuss the details of your requirements.
Want a meal waiting for you when you arrive? Choose from the list below or let us know a specific preference and we will aim to accommodate your wishes. Two courses available from £10 per person
Starters & Light Lunches
Soups
Red Lentil, Lemon & Thyme Soup (V), Leek & Potato Soup (V),
Chicken Liver, or Smoked Mackerel
Two Crispy Crumb Fish Cakes
Small baguette & butter
Favourites
Creamy Fish Pie
Traditional or Vegetarian Lasagne
Cottage Pie or Vegetarian option with Cheddar Mash
Chicken Filo Pies
Cheesy Broccoli & Potato Bake
On the side
Leeks, peas & carrots with herb butter
Salad leaves & dressing
To finish
Lemon Posset
Chocolate roulade (serves 4/8)
Individual summer puddings
Individual Meringues with fresh fruit
Special diets, celebrations & other occasions.
You can order food suitable for those with diabetes or wishing to follow a low fat or gluten free diet.
If you would like to discuss any special dietary requirements or catering for a special occasion please contact us.