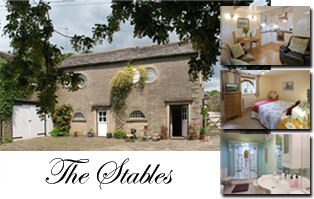 This Disability Access Statement outlines facilities available for guests who have allergies or are mobility, hearing or visually impaired.
There is a local bus service approximately every hour from Macclesfield except Sundays, which is less than 2 miles away. Macclesfield is on the main London to Manchester rail system.
Wheelchairs, other aids and equipment can be hired locally via the British Red Cross, The Helpful Hand and Shop Mobility. Please ask for details when booking and appropriate brochures will be provided.
Luggage can be unloaded in the courtyard outside The Stables. Access to the cottage is via a slightly sloping courtyard. Assistance with luggage transportation is available.

The Stables is a listed building. The listing constraints do cause some limitations on access, however the whole accommodation is essentially on one floor.
The main entrance door is 1020mm wide. There is no step. This accesses the lounge area. The kitchen/dining area are open plan to the lounge with no step. The doorway to the bedroom is from the lounge area and the bathroom is ensuite to the bedroom, both doorways are 840mm wide again with no steps. There is a step into the shower cubicle of 250mm. There are three steps to access an alternative entrance. The steps have contrasting nosings and handrail.
All door surrounds contrast with the walls.
All power points are a minimum of 250mm from the floor and light switches are approximately 1200mm high.
The kitchen worktop contrasts with the walls and cupboards and coloured glassware and crockery is provided.
Colour has been introduced in the bathroom décor and towels.
Toilet seat raiser available, integrated shower seat
The bedroom has coloured linen.
Bed blocks are available.
Feather free pillows and duvets.
Extra reading lamps are available.
A magnifying glass and swan neck lighting facility are available.
Televisions have Teletext facilities.
A de-ioniser and dehumidifier can be provided for allergy sufferers.
A thick writing pen and note pad are provided.
A jumbo alarm clock with shaker can be provided.
There are CDs for in house entertainment.
Assistance dogs are welcome, but not on the furniture please, and there is a field in which to exercise the dogs.
Wireless paging alarm system available on request.
Disability equipment for short term use can be hired from The Care Team www.thecareteam.co.uk
We are working towards being more accessible.
We would request any prospective guest who is planning to visit the cottage to make us aware of any mobility issues at the time of the enquiry so we may be sure to correctly advise them in order to avoid any disappointment